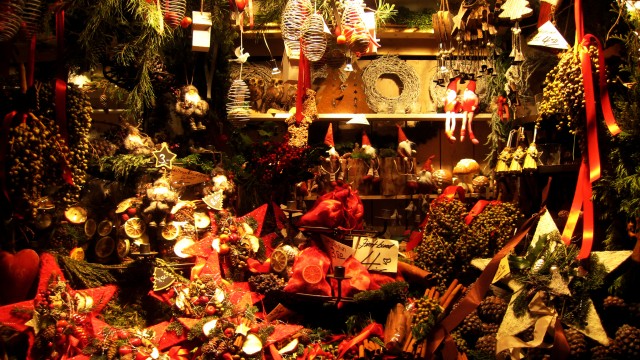 Christmas Magic in Stuttgart, Germany
-Stuttgart, Germany
This is stop #1 of my backpacking trip through Europe. I just finished a semester abroad in Florence, and thought it was an opportune time to backpack because (1) I was already in Europe and can save the cost of one international flight, and (2) being older than 25/26 years old means you're an adult by European traveling standards… so I wanted to cash in on all the "Youth" rail passes before I got… you know… too old. You can find my travel itinerary here: ___ if you're curious about tips, hostels, travel experiences, food, and so forth. I made bad decisions, good decisions, met all sorts of people, and the entire thing was one of the most incredible experiences of my life.
So, Stuttgart… My very first time in Germany!
I flew out of Florence to Stuttgart, because honestly, it was the cheapest flight out of Italy, and you need a 'confirmed flight ticket' in order to get a student visa. Because of this, I came to this city with complete naivety, wide-eyed with excitement of possibilities, and only the knowledge of how to get directly to my hostel through local trains from the airport, without taking out a map!
On the train into the city, I met two cousins who were nannies in Florence, and were doing their own 16-day France-Germany excursion. We helped each other get tickets into the city. They were a bit lost, and I had the route and instructions memorized from reading a million travel guides. I helped push buttons on the ticket machine. Then when it was my turn, I found out the machine didn't take bills, so they helped me out by giving me their coins! It worked out really well and we chatted for some time during the journey about our adventures and lives. After some time, I just stared out the window in awe of the Christmas scene (this was the 21st of December) as it recently snowed.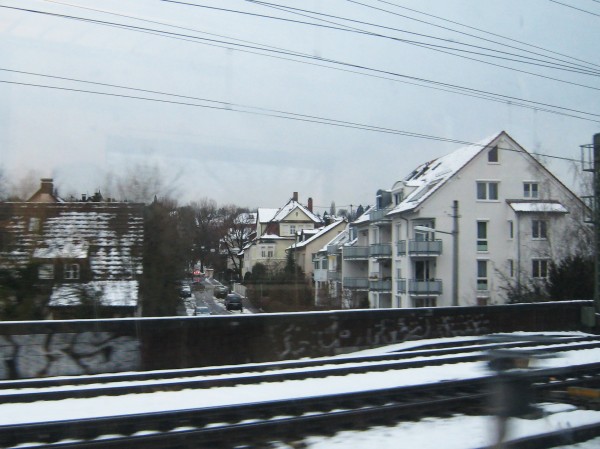 I stayed at Hostel Alex, which was a pretty awesome hostel. They are one of those that offer extra perks such as tours, activities (for those who want to make new friends in the hostel) and had their own bar. This meant that you get one free drink with your stay. They also had umbrellas for rent, which was awesome because I didn't bring an umbrella. You leave a 10€ as a deposit, pick up your umbrella, run around the city, and upon return, give the umbrella back and get your 10€. Awesome.
To my delight, the entire city of Stuttgart was fully decked out in Christmas. Every public square, and the winding streets between them, overflowed with Christmas Market booths. I got a taste of the market in Florence, when it came to Piazza Santa Croce, but that was a baby compared to what this city had to offer. The Christmas Market is a German/Austrian tradition, so it makes sense that it was so intensely rich here.
Here's one of many booths that had all sort of wiener-schnitzel, sauerkraut, wursts, and the vat of mulled wine. You can see the dark red mugs below… you put in a 2€ deposit, and get your wine in a nice, sturdy mug. If you return your mug, you get your 2€ back. Needless to say, I totally kept two of the mugs. One for myself, one for my friend, who I would meet up with in Marseille later.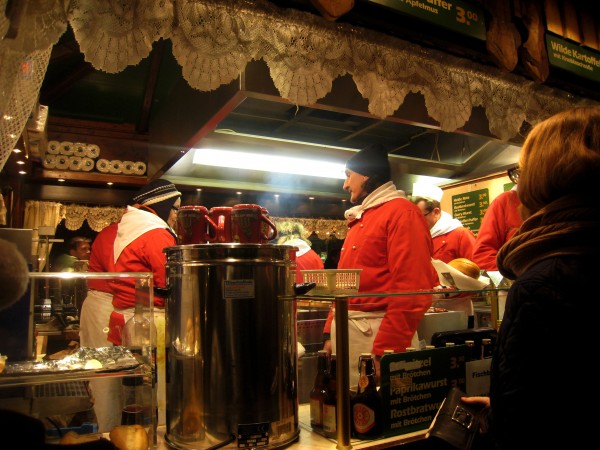 All sorts of goodies to purchase.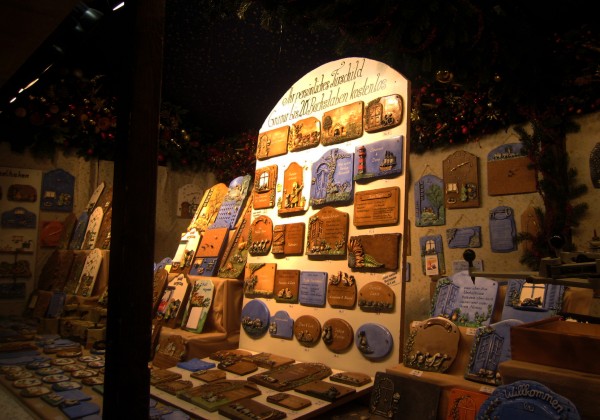 I am absolutely in love with Christmas spirit.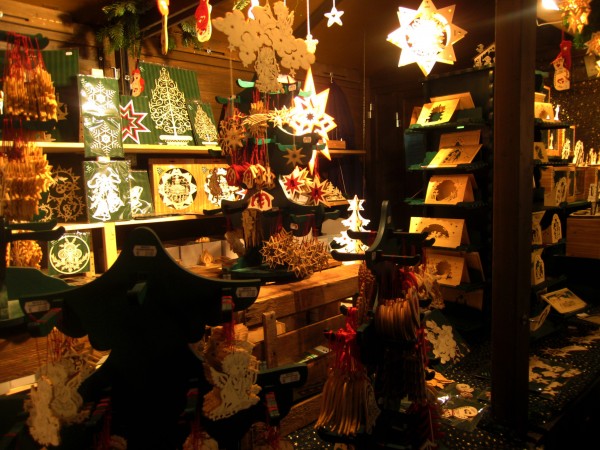 Nuts, anyone?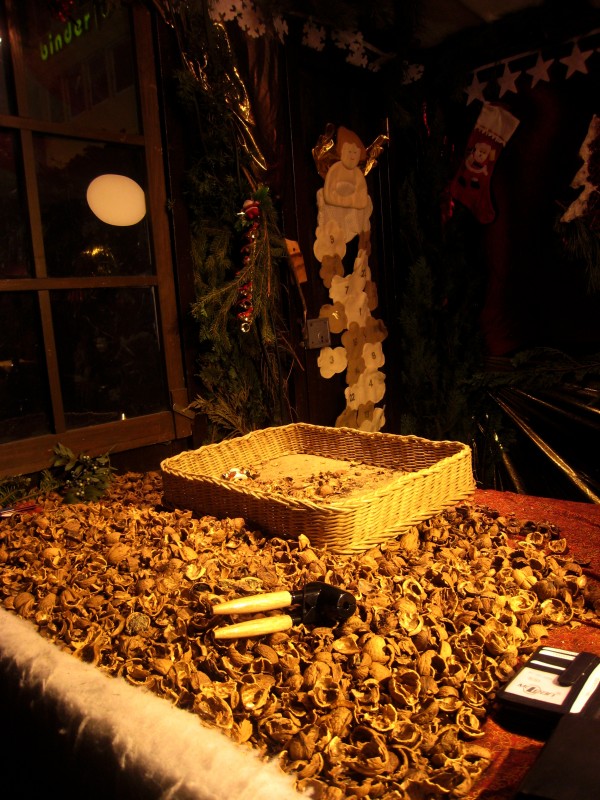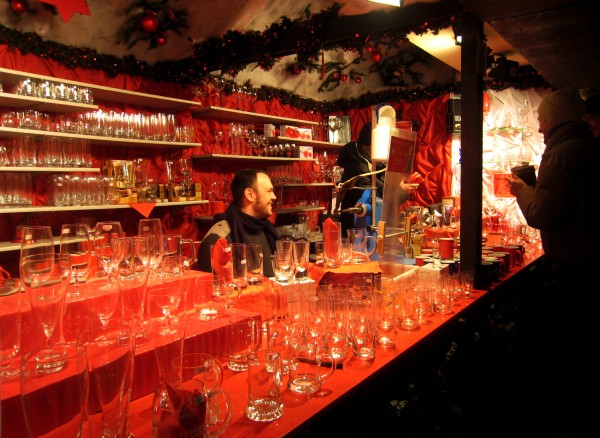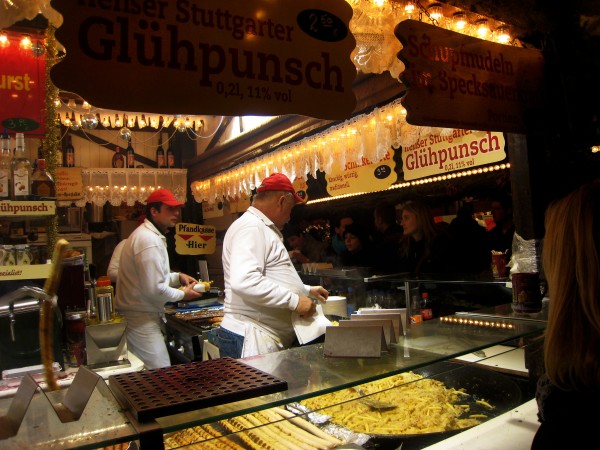 My plate of SCHUPFNUDELN IM SAUERKRAUT! Potato noodles, cooked in delicious, savory, seemingly bacon-infused, sauerkraut. Melts in your mouth.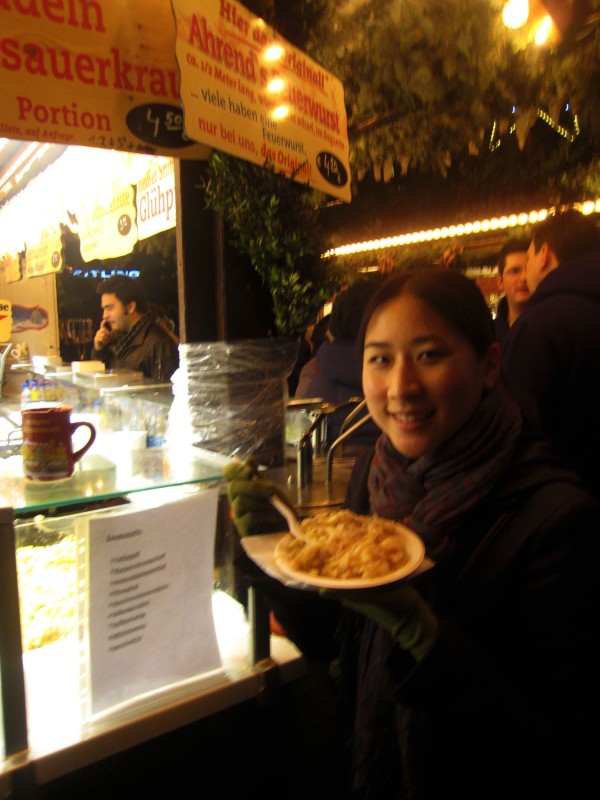 The heat from the candles rotates the fan!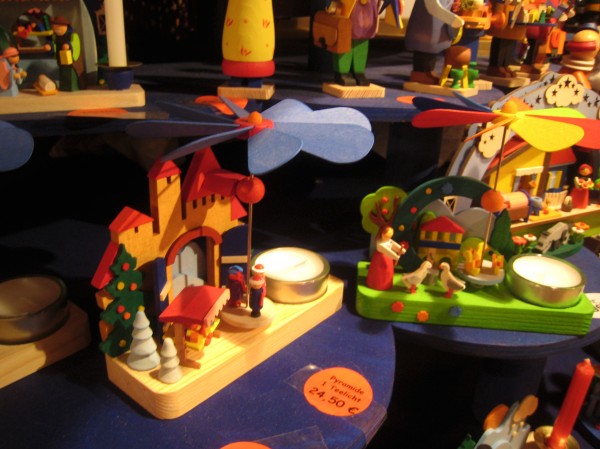 Tin toys, galore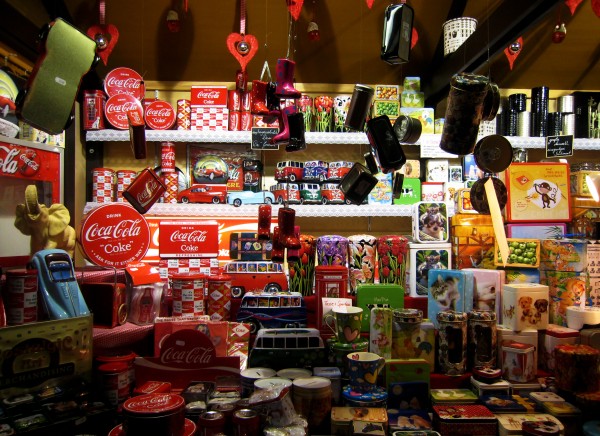 These booths have windows!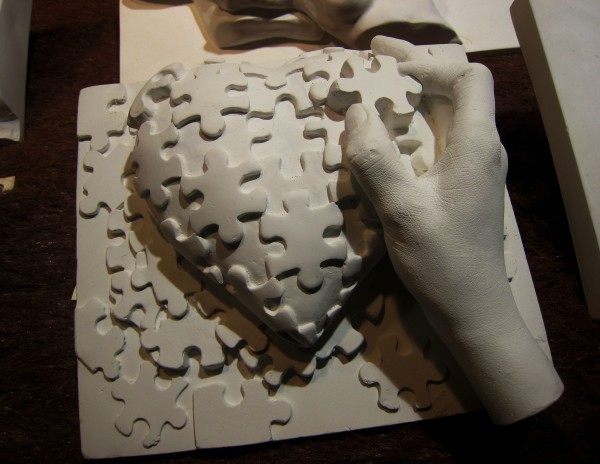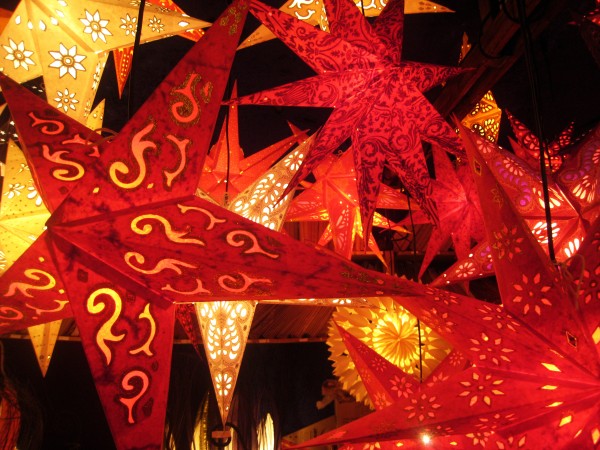 There was this HUGE nutcracker that continuously ate nuts.  I took a photo series to show you!

They also decorate the roofs of their booths. I heard that there are competitions about who has the best decorated booth.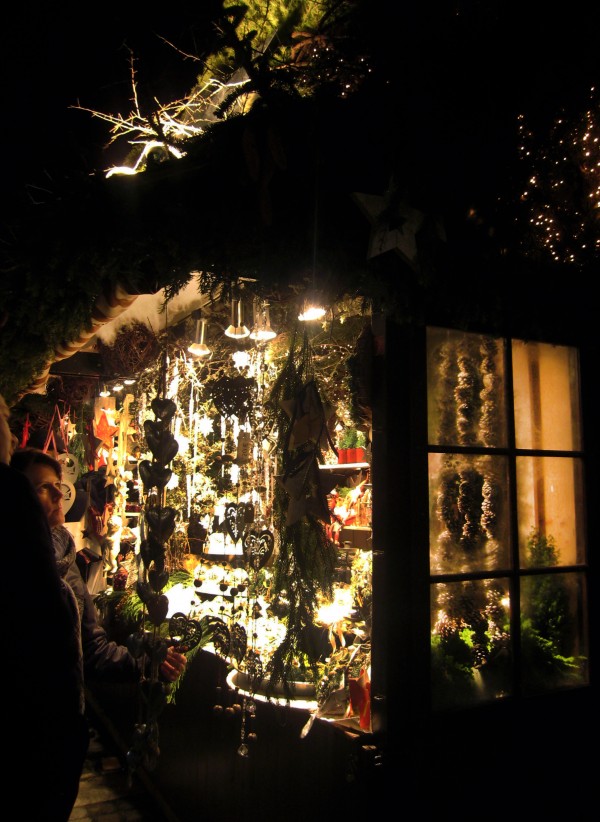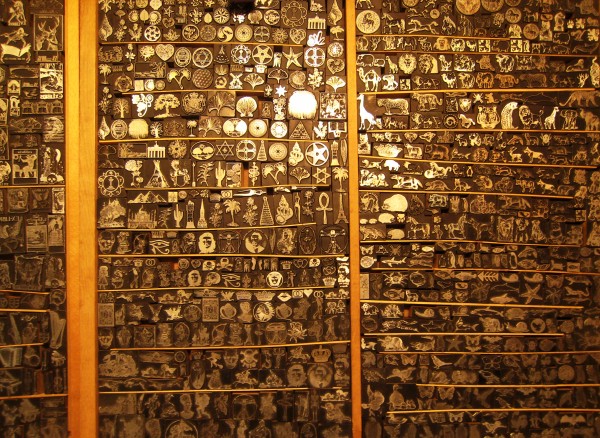 Ornaments, you like?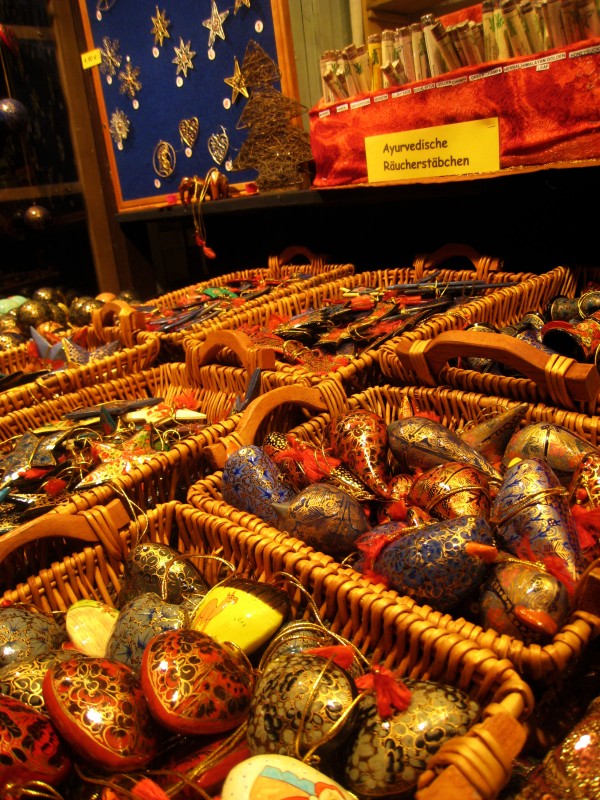 Christmas scenes
More roof decorations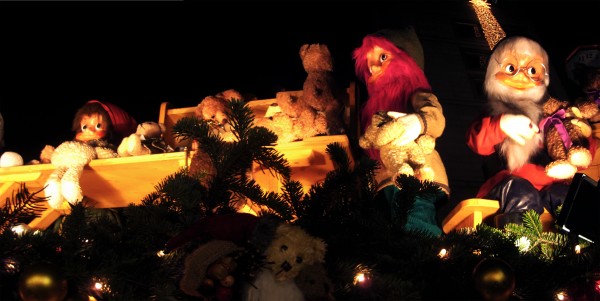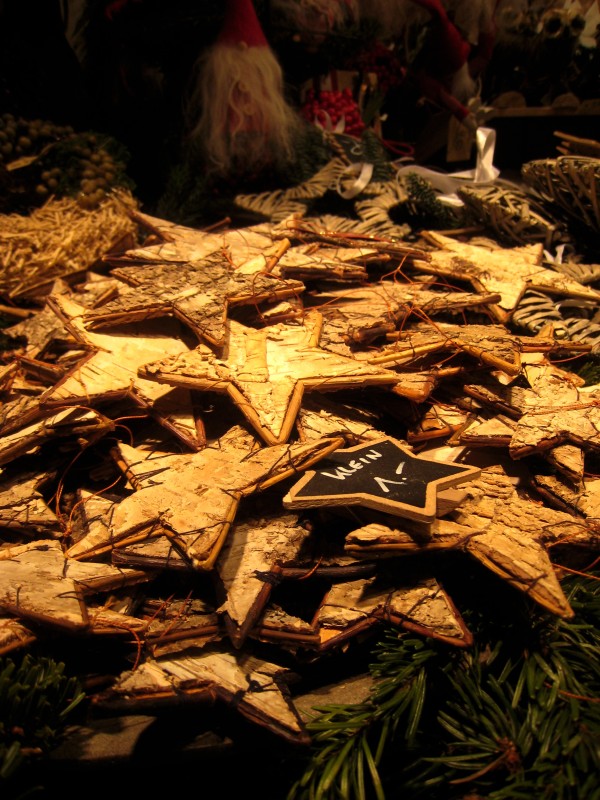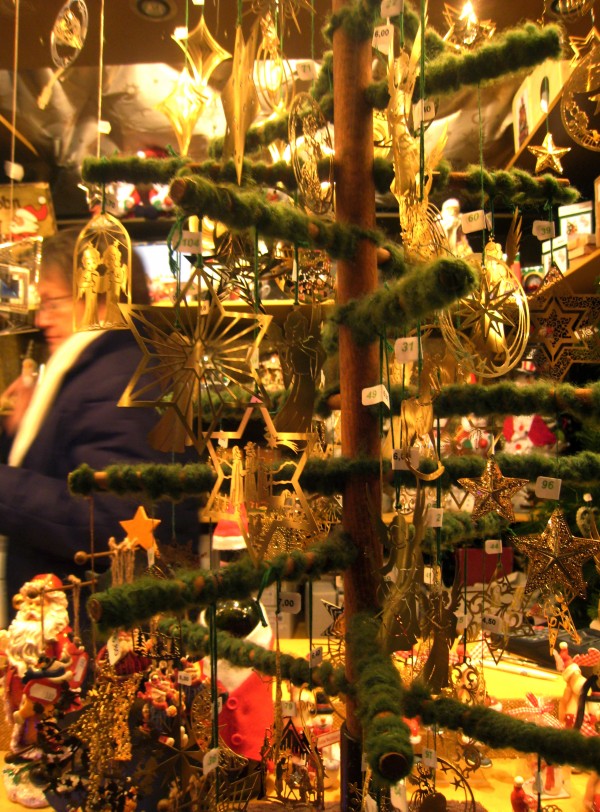 Little Santas dangling from the ceiling of an ornament booth!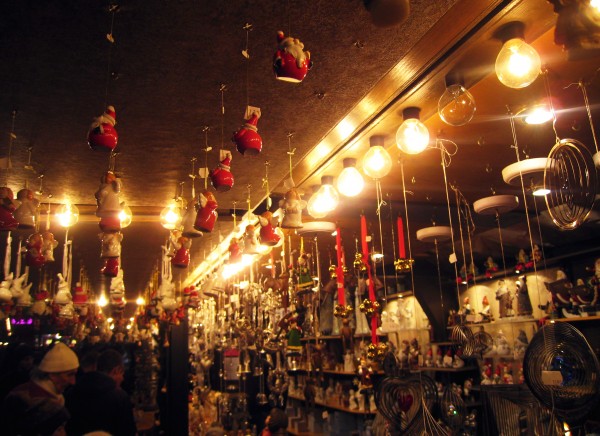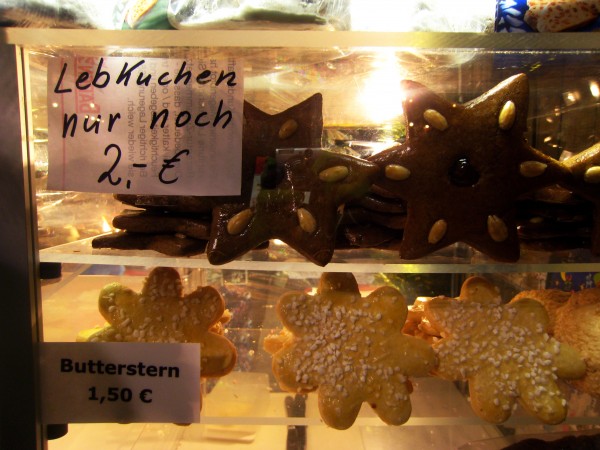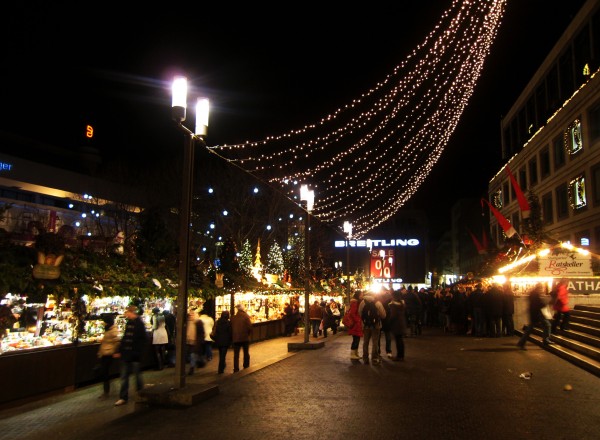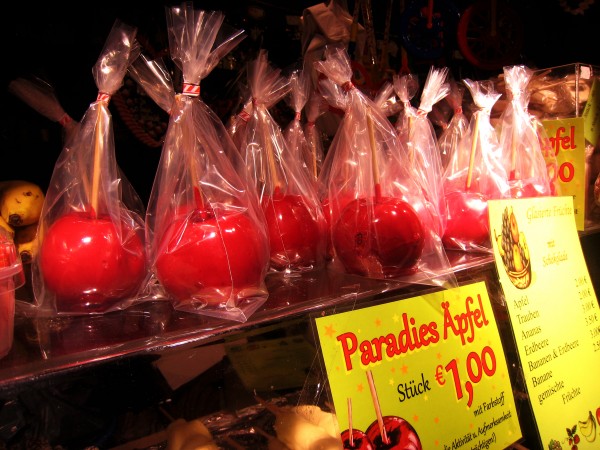 All sorts of sweets to eat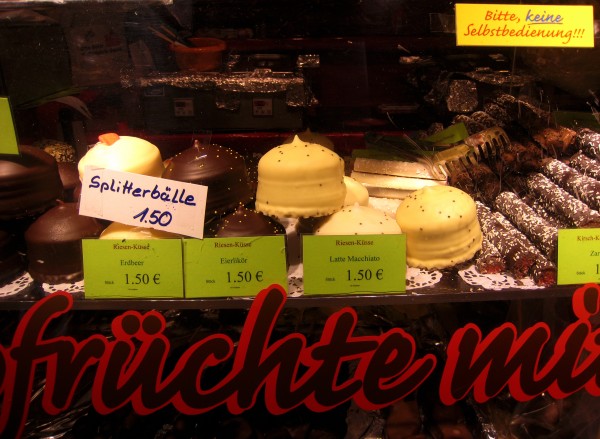 GIANT COOKIES.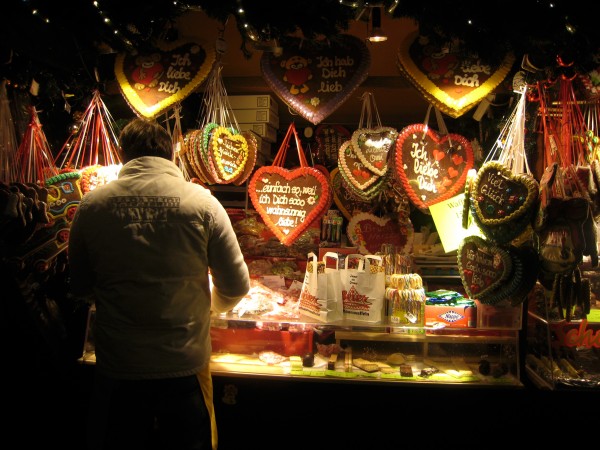 Giant Christmas Tree… a tree that isn't cut.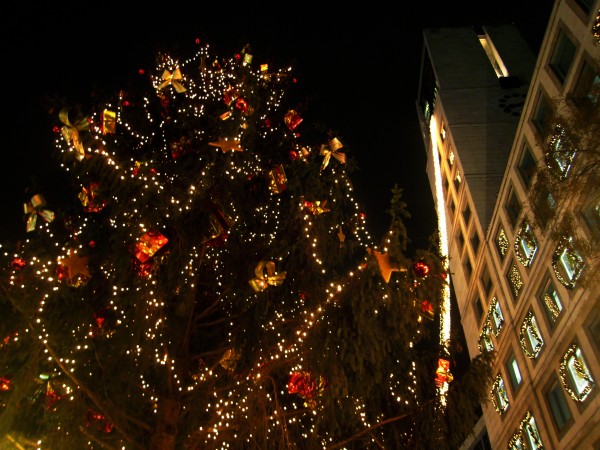 Even the stores have displays with interactive windows. Here, this girl is pushing a button that is secured to the glass, and the whole display animates, complete with music accompaniment!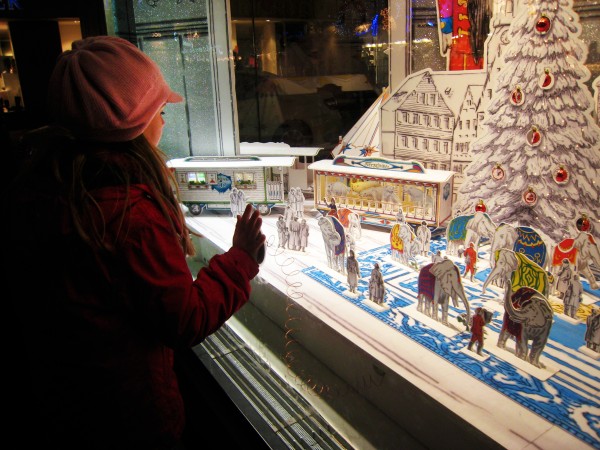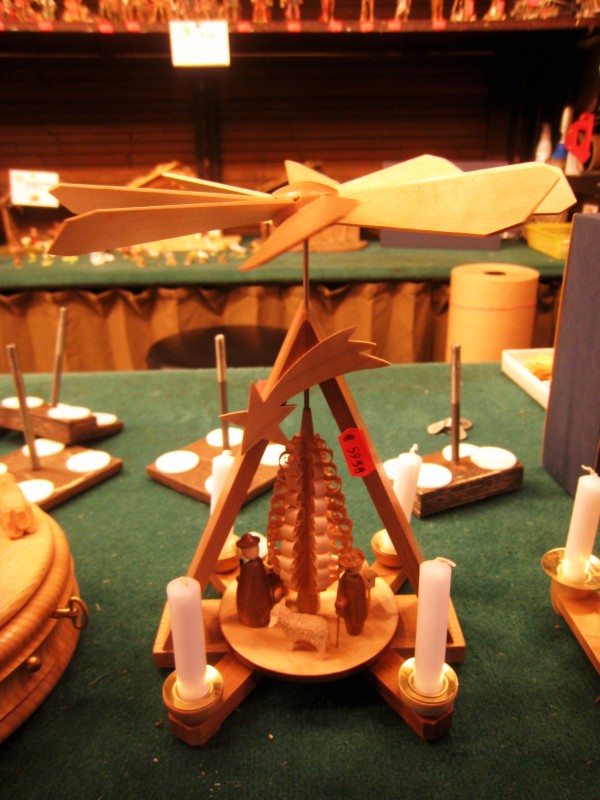 Pink/Purple Magic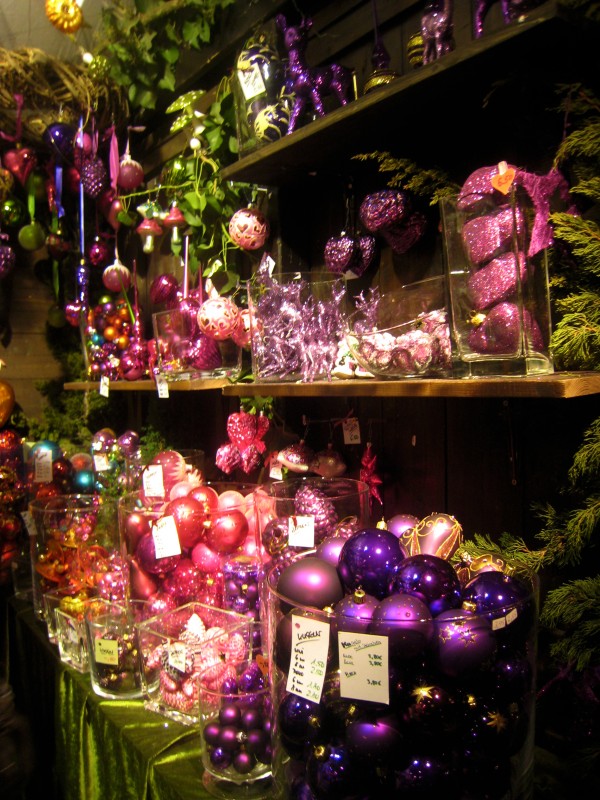 I love these!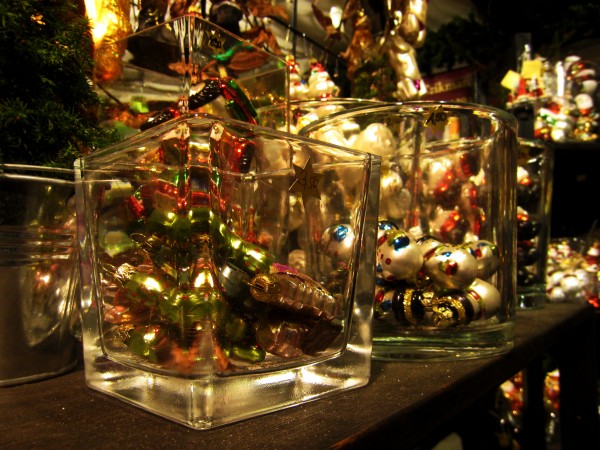 My hostel roommate, Lauren! It was a room for 4. We also befriended a Vietnamese girl who knew more German than English, which was fascinating to me. I don't know any German, and found myself speaking Italian, while trying to purchase food and things. By the end of Stuttgart, my head was all sorts of scrambled German, Italian, and French. HAH. I was of no help to anymore, but I sure was trying. Fortunately, Lauren knew German! She helped me a lot. We quickly became friends as we were both traveling alone for the time being. Here she is enjoying her schupfnudeln im sauerkraut!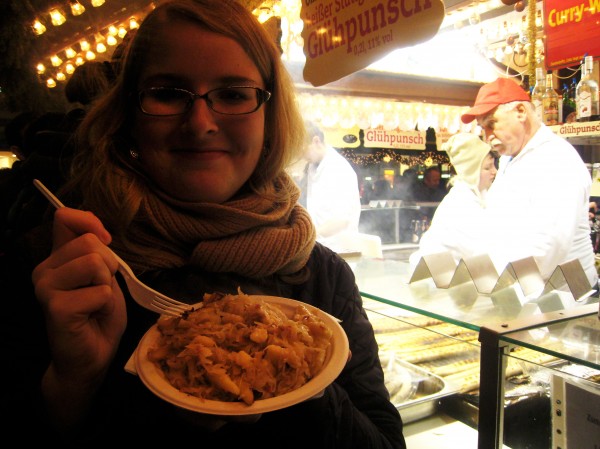 In addition to my digital scrapbook (this website), I also scrapbooked a real book. It has clippings of tour guides, receipts, tickets, and notes from others that I ran into along the way. In it, I wrote this:
I'm really glad I came here. Ice rink at the Christmas Market, all blue and blasting music! Everyone is so polite and nice, hardly any pushing! I am lucky I made new friends… can't wait to go back!"