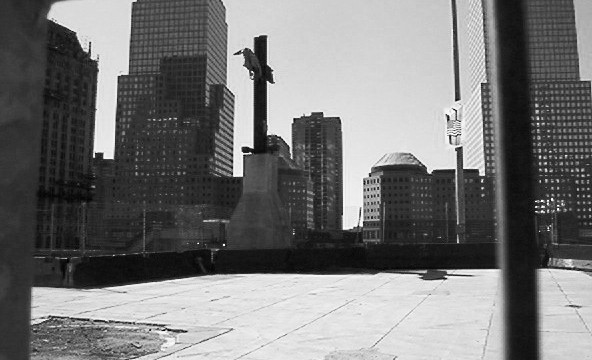 Remembering 9/11
– Florence, Italy
This evening I was at a caffe with two friends, doing our readings, with an order of caffè espresso. When I finished, I looked up and saw the Italian broadcast of America's remembrance of September 11th,. It was just ten years ago. While I could not hear President Obama or Bush's speeches, the subsequent footage was very moving. I saw friends and family doing rubbings of the memorialized names. They collapsed in tears on the names. Someone placing a fire fighter's helmet on another name. It's sad. It's terrible.
It brought up memories of that day for me. I did not lose anyone personally, but I feel for those who were even more impacted.
Sitting in that caffe, thousands of miles from New York, my eyes started to tear, and I couldn't get it to stop.
I went up to get a napkin from the box dispenser. The owner of the caffe noticed me, and approached soon after I sat down. He asked what Obama was saying. I said I wasn't sure, as the volume wasn't on. He hesitated slightly, tried a few words in Italian English, and then said that ten years ago, his caffe used to be filled with American students. They were all sitting in here, he said. We were sitting and on (he points to the television) we see, it smash.
I am reminded of that morning.
The owner asks how old I was when it happened. I was fourteen.
A freshman in high school. Up at 5:50am to get ready for zero period at 6:30am. My best friend called, and I wondered, why so early? She tells me that a huge jet plane hit one of the towers. We flip out. It was still very confusing as to why it would happen, and the idea that such thing could happen, was new.
Soon after, she calls again. This time, they were watching the news on tv when, along with many in the world, saw the second plane hit. Live. We are definitely sure that this is a terrorist attack, the newscaster says.
We get to class, and my friend and I couldn't stop talking about what this was. What it meant. We were but fourteen, going to school in suburban California, with woefully limited understanding of world conflict. But we discuss what we knew. Something about how it is an attack on our country. We say, An attack on our country?! What if they hit the White House? Or… the Pentagon?! We only chuckle because we don't think it would happen. Because, why would someone do such a thing?
We are preoccupied with class. These are the days pre-3G network, without constant news streaming into our hands.
But we make it to the next class, and hear that the Pentagon was hit. The White House was missed.
I'm frozen. We are frozen. We shouldn't have said anything. That day was incredibly confusing and somber. Already by evening, neighborhoods had organized candlelight vigils.
Everyone is thinking the same thing. How? Why?
I am still sad thinking about it. The caffe owner and I talk a bit more about what it was like back then. He keeps saying, Ten years ago!! A few more words, and I appreciate his concern.
Not quite sure what to say about it now.  Who knew going to work early equated the difference between life and death? Fourteen may sound mature enough, but I know that at that age, I knew nothing of the years of conflict, of terrorism. I was a freshman in high school. Sure, I petitioned my local district representative and state senators. But my understanding of who and why such things could possibly happen baffled me. I can't imagine losing someone, I thought.
Life, is so delicate.
And just for those few moments, I felt comforted that this Italian stranger had concern for us. I appreciated the conversation. I hope the friends and families affected by that day, have similar consolation knowing that there are countless around the world who support them.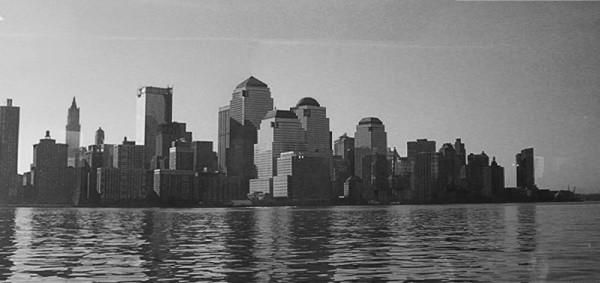 The two photos here aren't the most glamorous shots I've taken, but they are pictures from my very first trip to NYC.
They are from April 9th, 2005.
I think the camera was a PowerShot A60. Whopping 2-megapixels powered by 4 AA batteries : )
I was still in high school (!) competing in an 'international' choir competition (we won!)
The skyline looks different now.
The steel-formed-cross in the first photo is now in the Memorial Museum.