Books: Stiglitz, Pleyers, Rand, Hughes
Books currently digesting: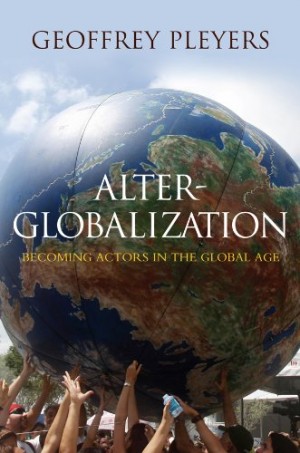 Alter-globalization
"What is alter-globalization?" Very much what it sounds like. An alternative form of globalization, i.e. non-capitalistic globalization.
While looking through the shelves at a bookstore in Saint Marks, this one caught my eye not because of the author's name (I have not heard of Geoffrey Pleyers), nor its buzz word "globalization", but actually because I thought the cover was embossed – like the lines on the giant globe truly were engraved and the bulbous sections were smoothly popped out.
Skimming through, it felt like it was the next course in what I have yet to learn about the globalization machine. It quickly summarizes what I have learned so far (refreshing my memory), catches me up with what I have missed, and delves into current trends.
So far the research is extensive and well presented. Plenty of unemotional strengths and weaknesses of various strategies, pinpoints locations of symbolic and significance for change and their case studies, and well illustrates the true global nature of the alter-globalization movements.
It's not  a trend. The issues at hand concern daily life and death situations for some communities, far to be taken lightly. The perpetual questions are, how is it working against the capitalism it criticizes? What is working? How is it working? When is it losing steam?

Stiglitz!
I read a lot of Stiglitz in my undergraduate courses. I am a fan of his analysis and his writing.
He is the former Senior Vice President and Chief Economist of the World Bank, as well as the chair of Clinton's Council of Economic Advisors.
This book was a birthday present to myself last month, and at the time, the project of the summer.
I had this book title on a sticky note over my desk the entire school year, but never ordered it  because I knew I would not be able to have time to read it, with studio and other courses going on.
Imagine my excitement at having a summer with only one research project development! It has been like being in the working world again.
Steady, predictable work hours. Weekends (relatively) free. Time to read!!
All in all, progress has slowed since the additions of the other 3 books, but still going steady!
.

.

.

Ayn Rand…
Who, in architecture, hasn't read The Fountainhead?
It's about time that I got around to Atlas Shrugged. Though, I am a bit cheating because I have the audiobook format. (This is how it is possible to have 4 books at once)
The Taggarts and company join me on my workouts and running sessions.
.

.

.

.

.
.
.
.
.
… and who is John Galt?
.


Letting the brain rest…
Sometimes we all need to relax a bit and read something that doesn't take incredible brain power to digest.
A nice balance, don't you think? :]
.
.
.
.
.
.
.
.
.
.
.
.
.
.
.