It's My Birthday!
Thank you to everyone to celebrated with me, called, sent emails, cards, and packages (!!). It is difficult to express with words how much it meant to me, so I will attempt to with pictures too. Thank you THANK YOU.
Time to share:
I spent Saturday at the lake barbecuing with friends, chilling at the beach, eating cake, and playing frisbee. Below: a pretty amazing guacamole burger…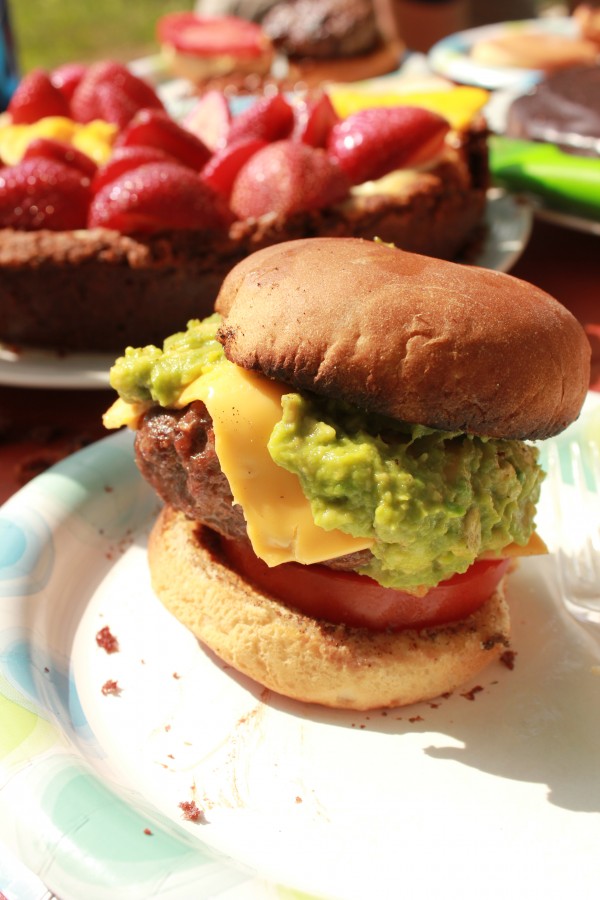 The best way to celebrate a birthday is to be with people you like and love!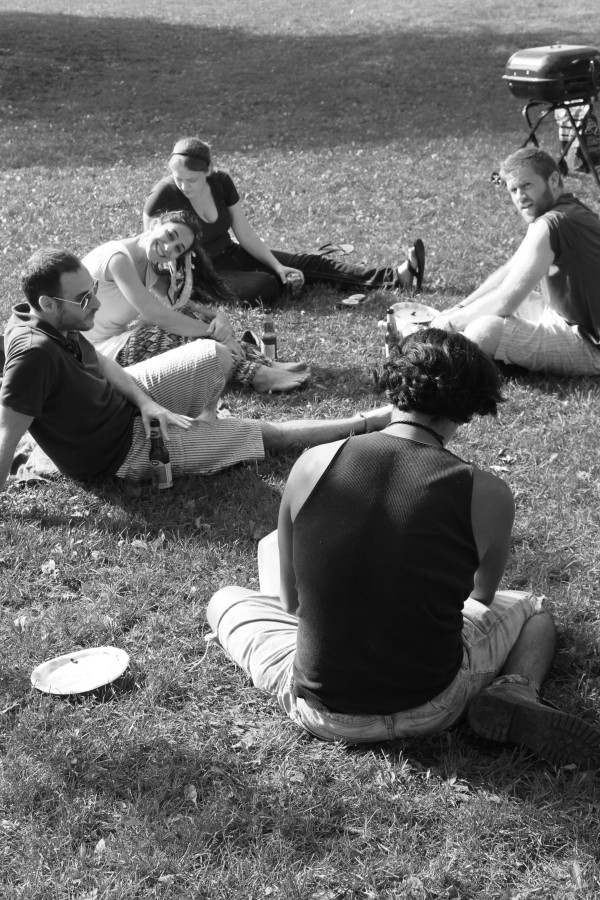 So… I call this one, "How Many Men Does It Take To Start A BBQ?"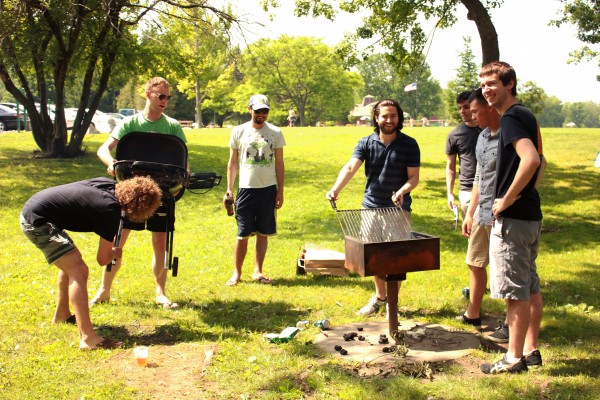 All jokes aside, apparently it's because the lake's BBQ grills are crappy. Not enough airflow for the coals.
As you can see, everything worked out. Chicken kebabs!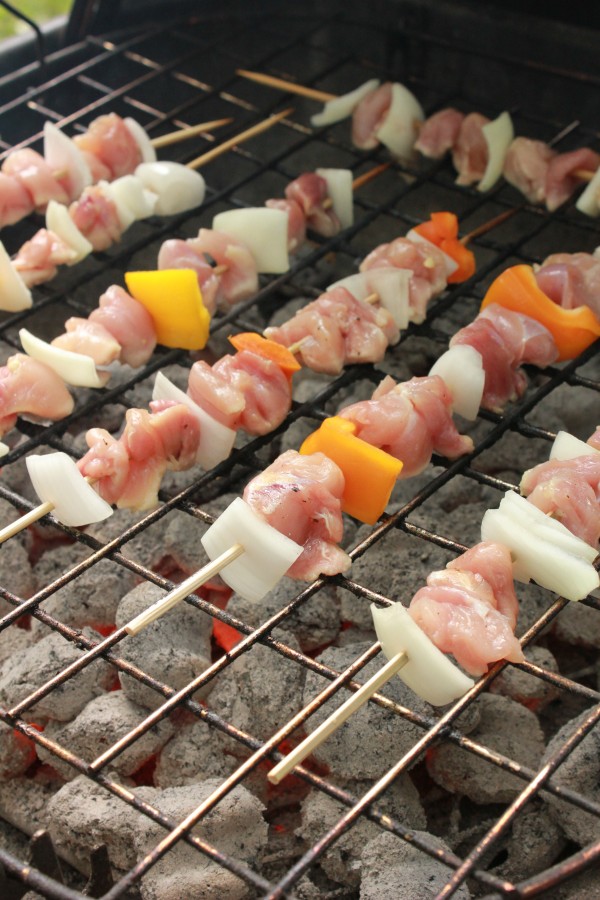 Two of the best people you will ever meet, Andy and Vicky: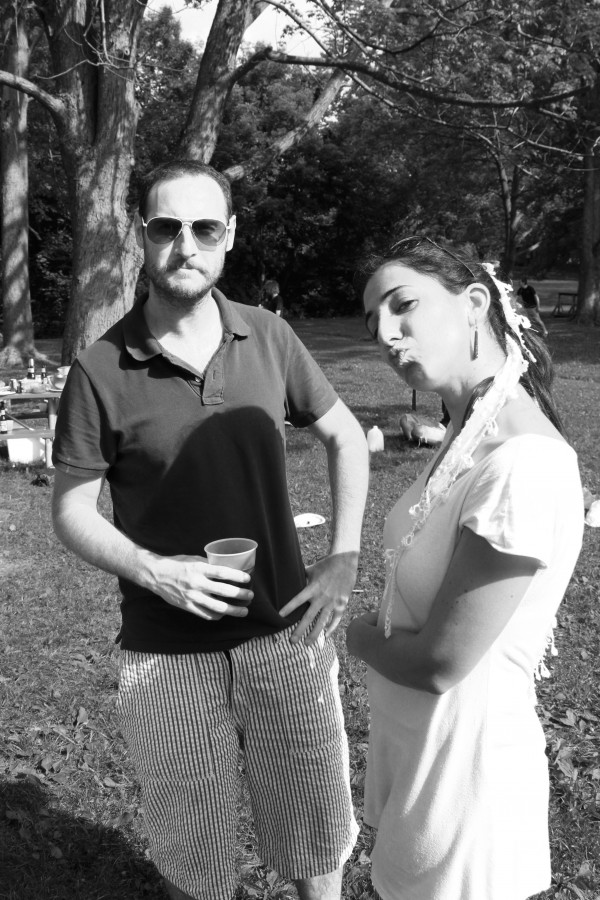 This is a white chocolate cheesecake, with chocolate chip cookie crumble crust. Topped with mango and, of course, strawberries. Technically, I made this cake for Andrew, because his birthday was the day before, and this was a joint celebration.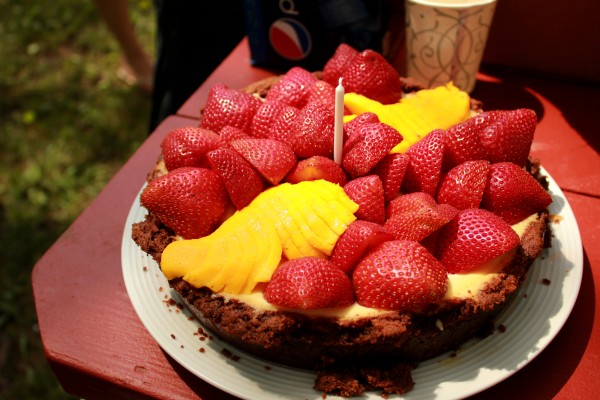 Lionel barbecues every Sunday, and Mario is my fellow Cal buddy :)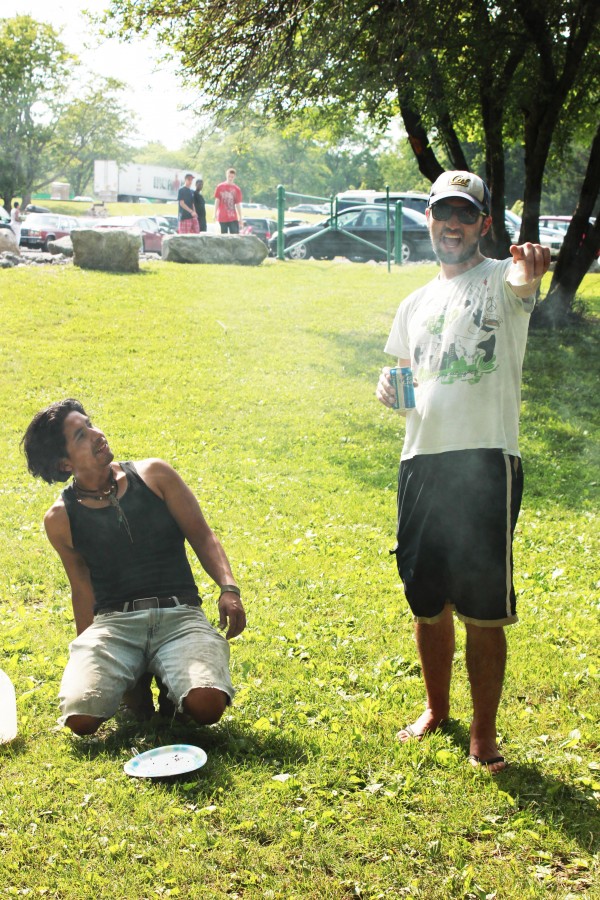 Bavarian cream, chocolate coated puff pastry, fruit tart. It's not a real summer, without this tart!!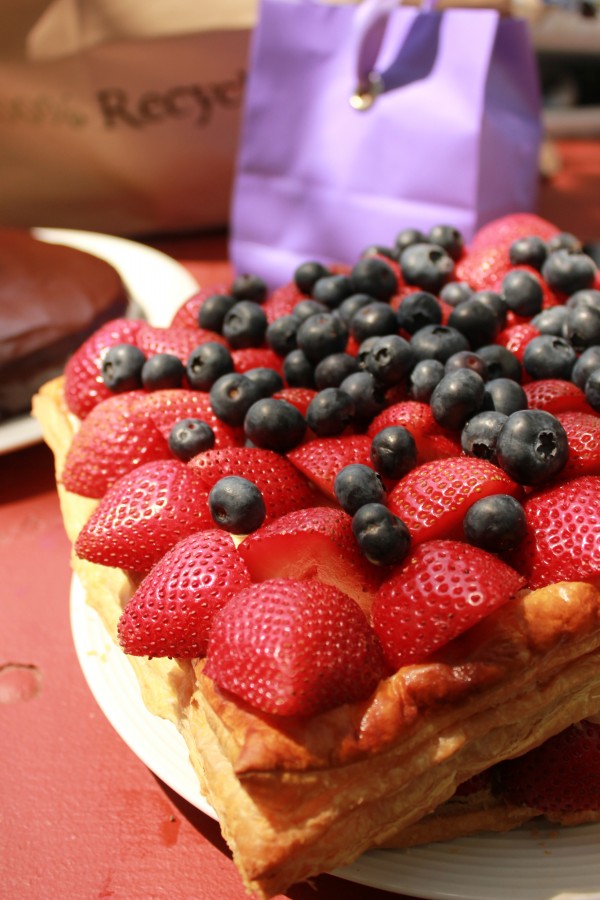 Mark, rocking the shades we haggled for in Venice, back in the days of Italy.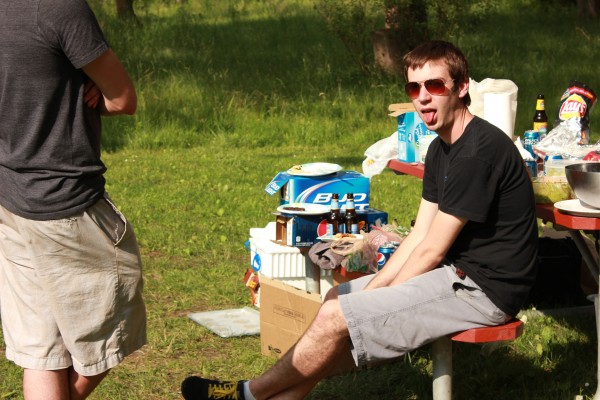 Tony, Andy, e Vicky.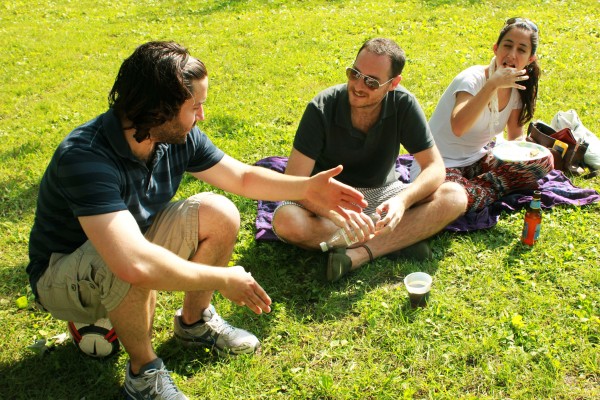 This. Cake. Tastes. EXACTLY. Like. Girl. Scouts. Thin. Mints. Cookie.
Except bigger. Much bigger. Putting peppermint oil in the chocolate cake batter was probably the best early-morning decision I've made in a long long time. Dark chocolate mint ganache.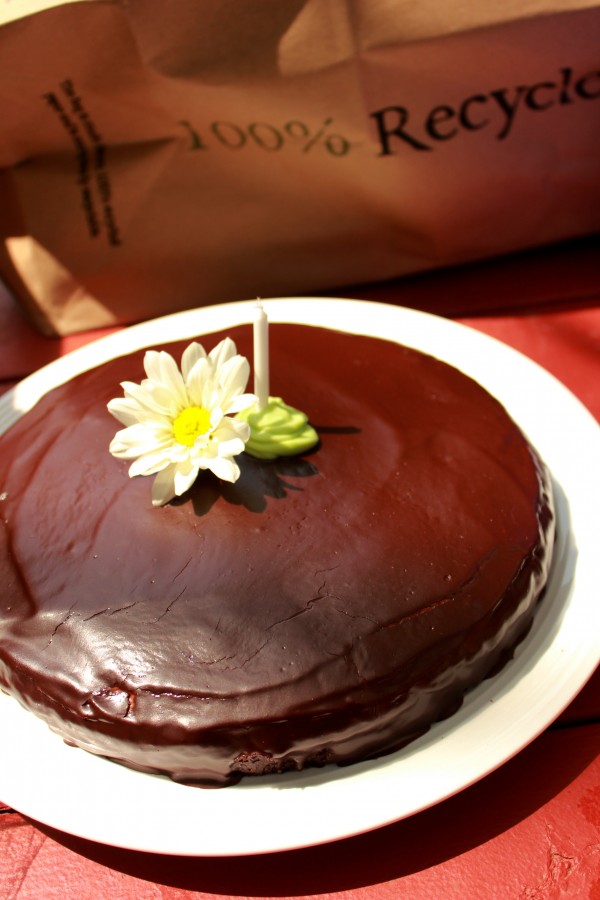 Brendan and Carrie.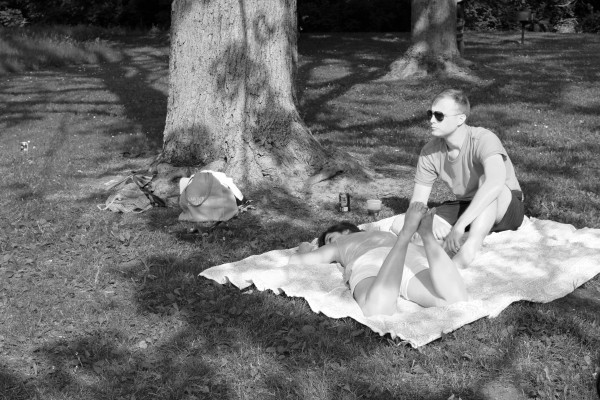 Can you spy the red frisbee?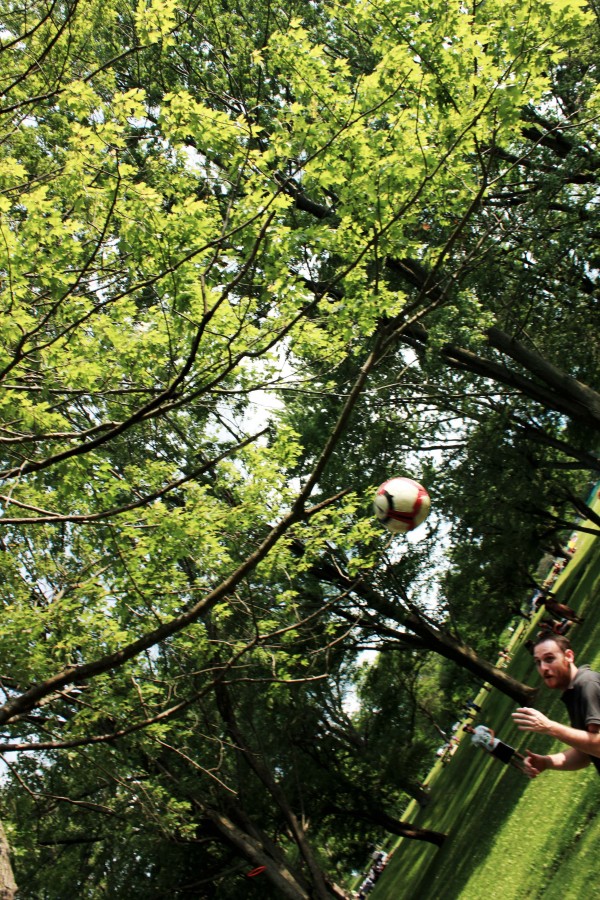 Frisbeeeeee.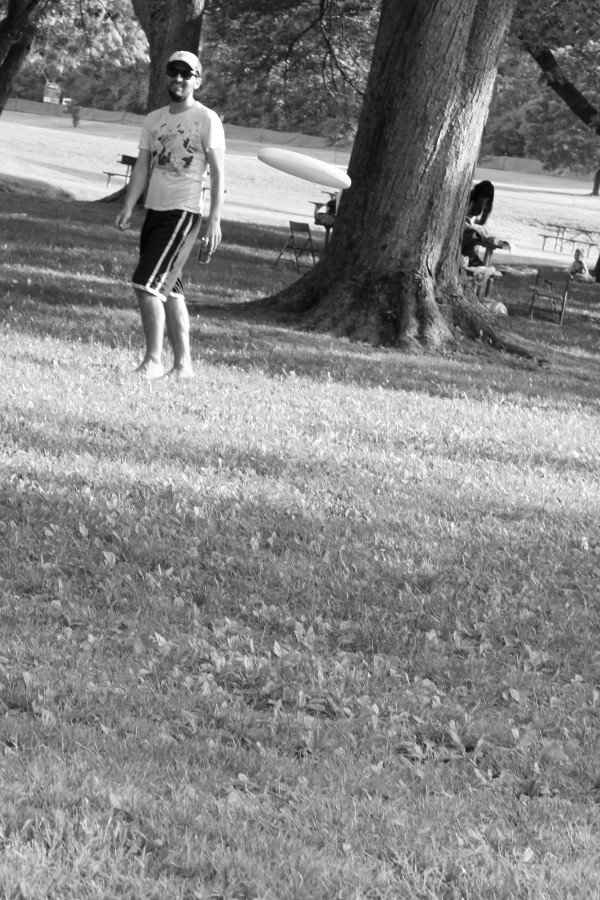 This little kid, Nathan, kept trying to play with us. Unfortunately, he was accidentally clobbered in the face by Dylan with the soccerball. But he kept coming back for more. Here, he is huffing proudly after throwing the ball at Andy's head. Maybe this is a new game.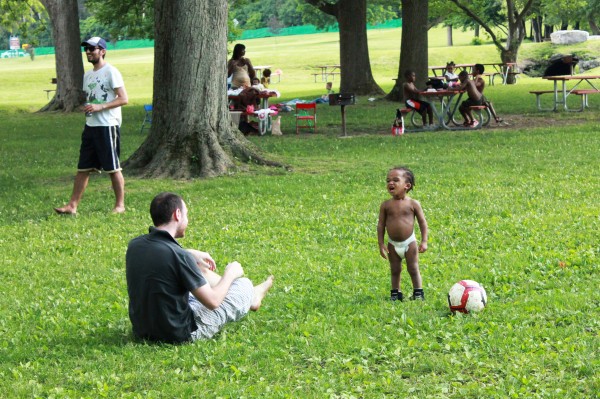 He kept doing it. Again, again!!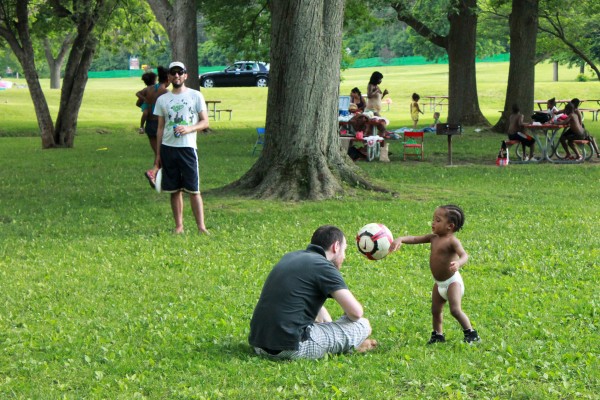 Dylan teaches Andrew how to shotgun!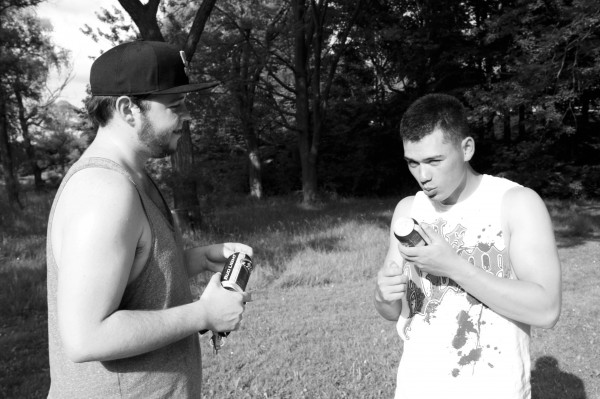 We went home afterwards, showered off the sand and sun, and went downtown to celebrate some more. Did you know Patron makes chocolate flavored tequila?!
Anyways, the friends that came out made my day. Same with the phone calls, texts… quite honestly they were all unexpected and I won't forget this one for a long time. I got an international text from my sister in Morocco, her voicemails (skype and normal phone!), a text from China from my dad, a text from my mom (my parents are so tech savvy), and from my older sister too…
The next morning, Mark stopped by to bring me a gift before he went back home to Connecticut. It was a bottle of Brunello di Montalcino!! From when we went to Montalcino for history class!! (I still have my Vino Noble Reserva 2006 waiting for December when we graduate!)
I started making coffee and my roommate came out to lay out her gift to me – a spread of Italian foods that we love. She also put out the cards that have been coming in over the last month. While I was finishing up the coffee, I turned around and saw this: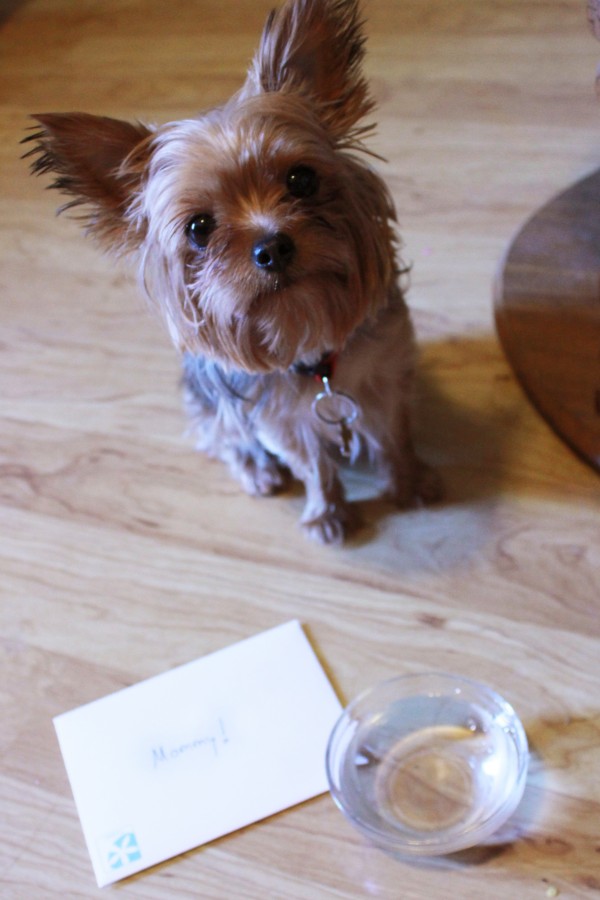 "Baci!!! A Card?! For meeeee??"
hehe
What a nice Baci.
Thin Mint cake #2, two caffe lattes, the Brunello, Abbracci cookies, parmigiano reggiano riserva, 'stinky foot' sausage <3, prosciutto e mozzerella, tin of 蛋卷王, favorite flowers in the whole world, and the cards!!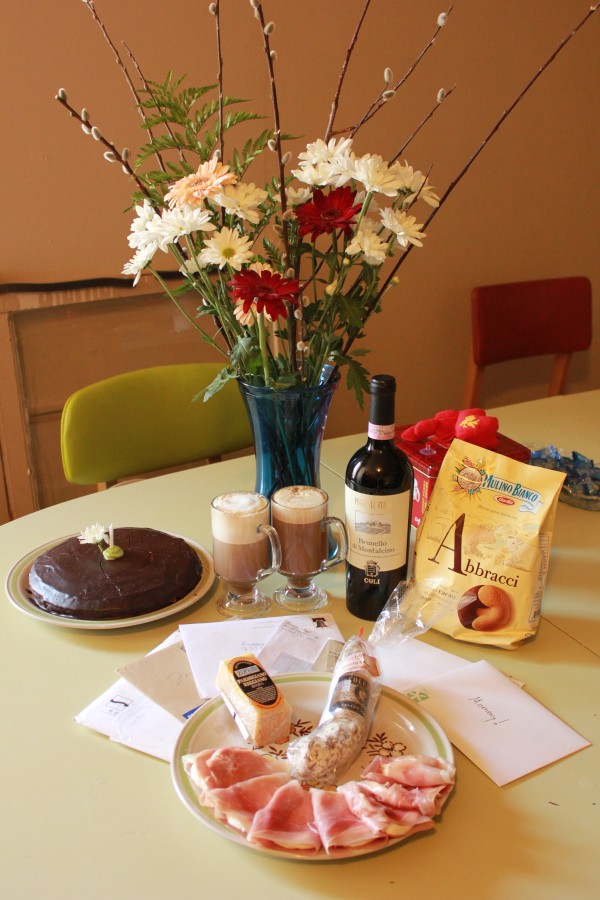 From my grandparents! I miss and love them so much…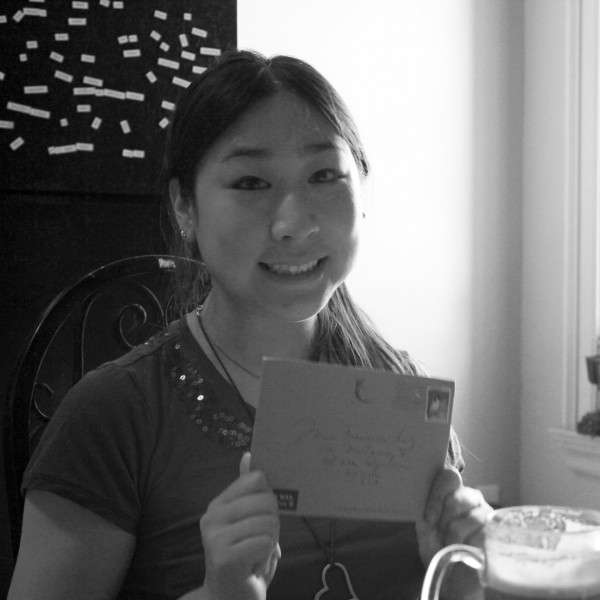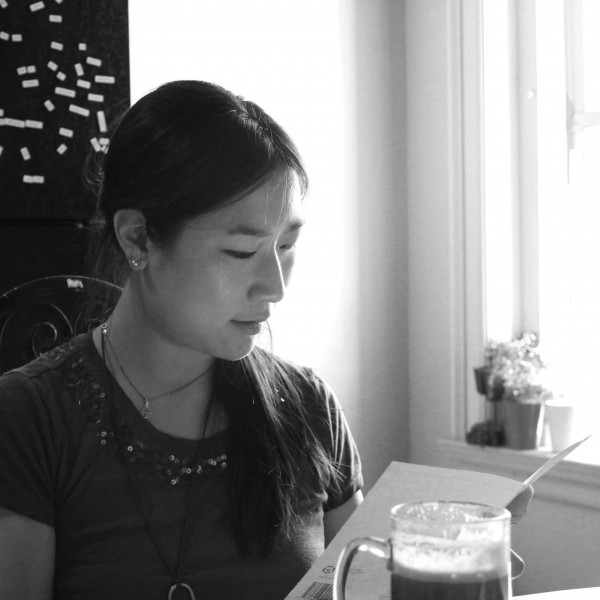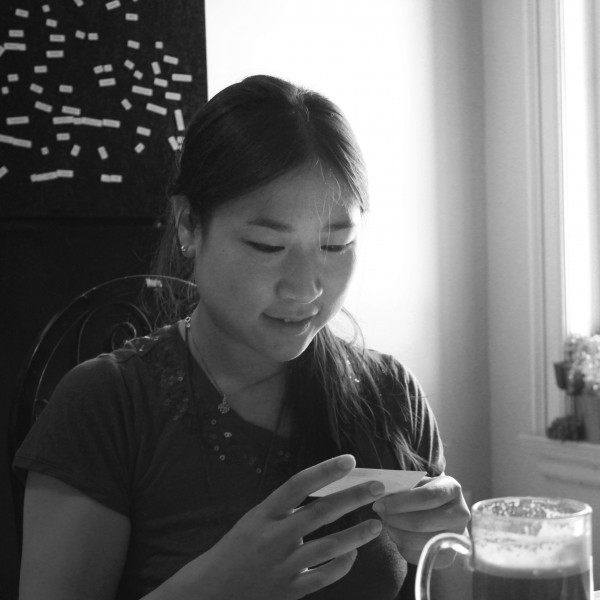 From Dad: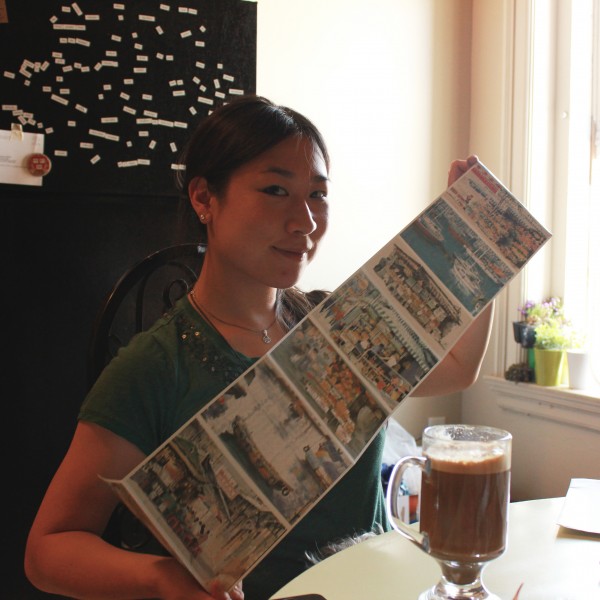 From Katarina, I'm pointing at flipflops that she drew, because I liked her drawing!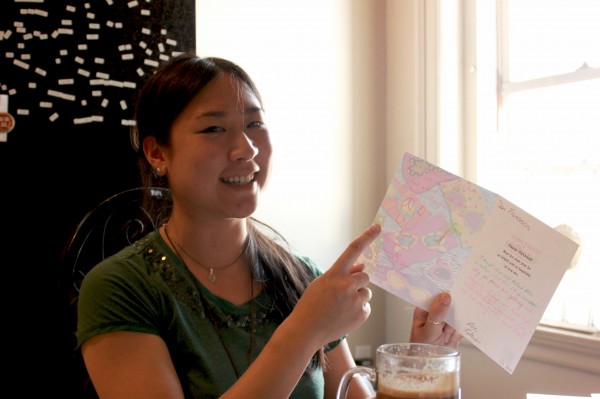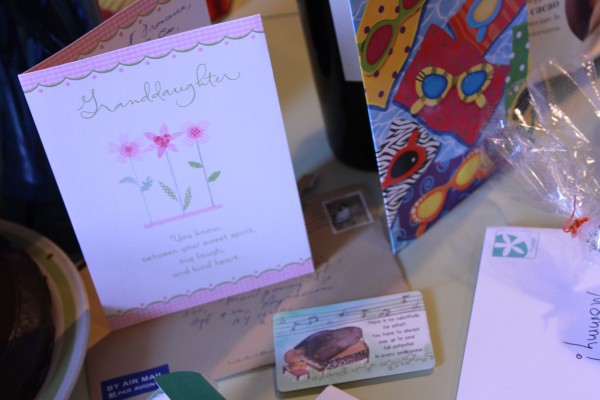 Baci wasn't really helping, probably just confused. As usual. Haha.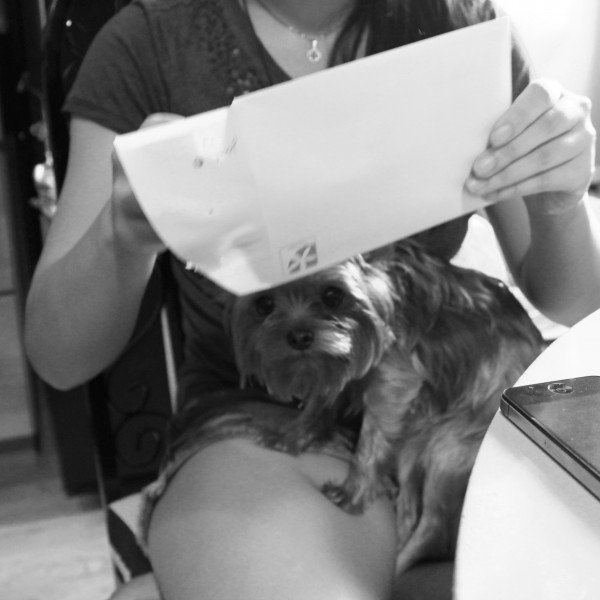 I'm not sure if she remembers picking, signing, and giving me her card, hehe. But thank you anyways, Baci darling!!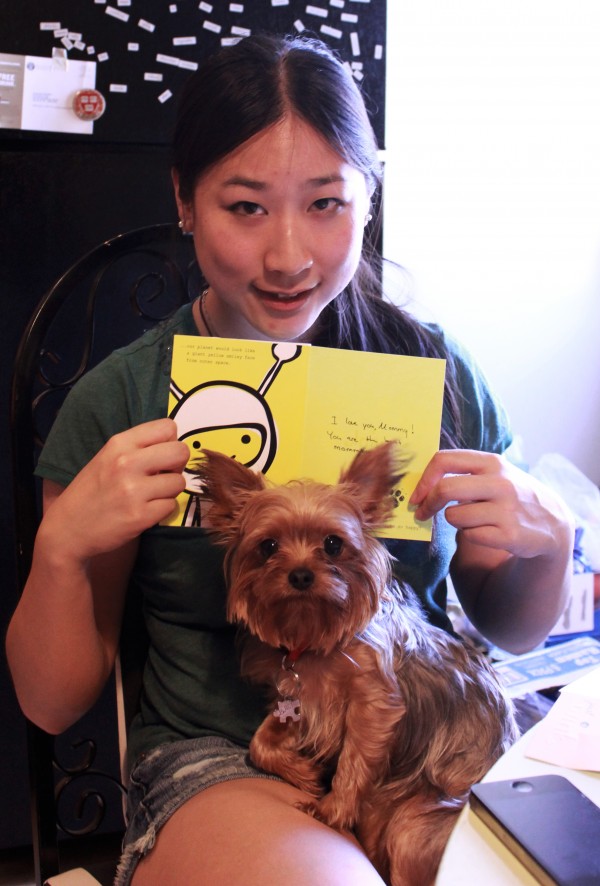 From Baci and Angelica ; )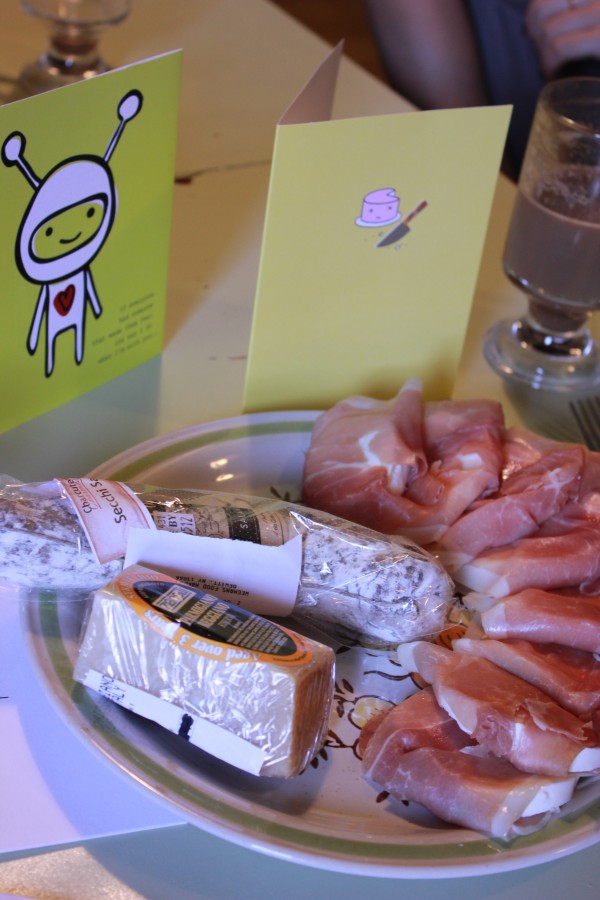 The mate cup and mate from Vicky and Andy! From Argentina :)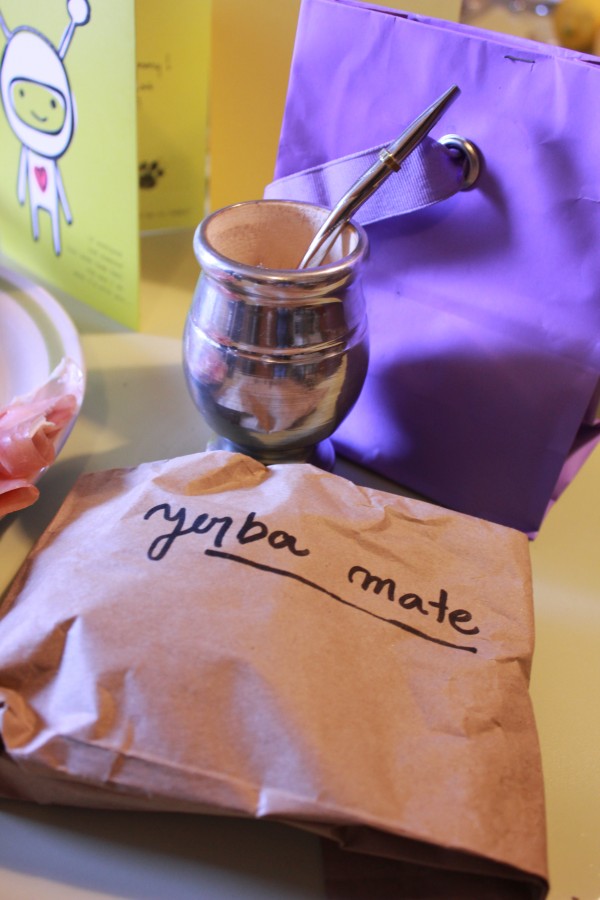 This coaster is from dearest Donut, who is in London right now. I love it.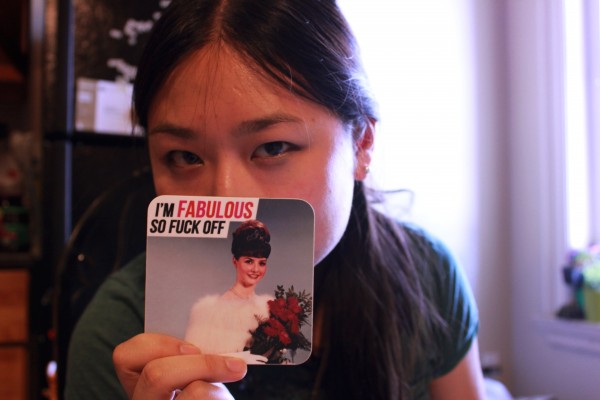 My mom sent this in a box with two pieces of clothing, each are the type that can be worn several different ways!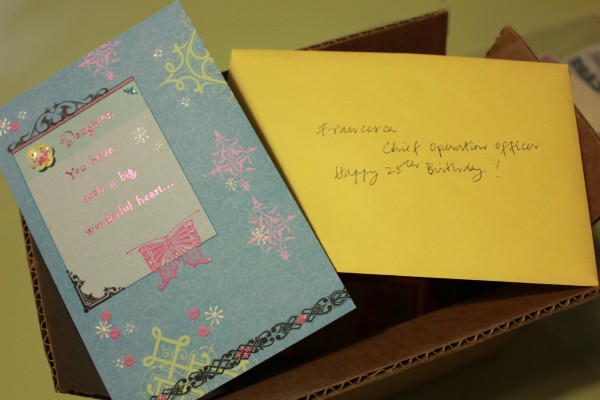 And this finally made its long, long way from Morocco, from Cassandra!!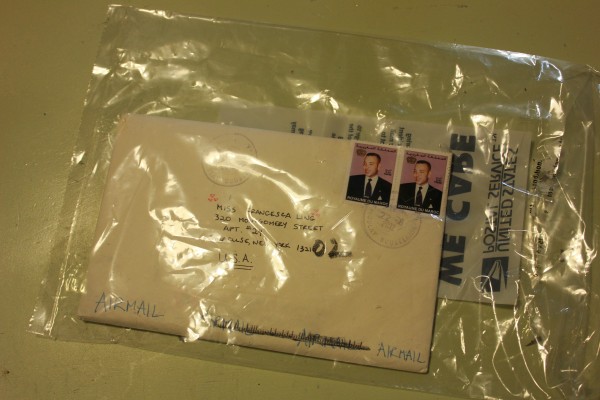 Airmail, airmail : )
As I'm taking pictures, I have a little follower always watching what I am doing: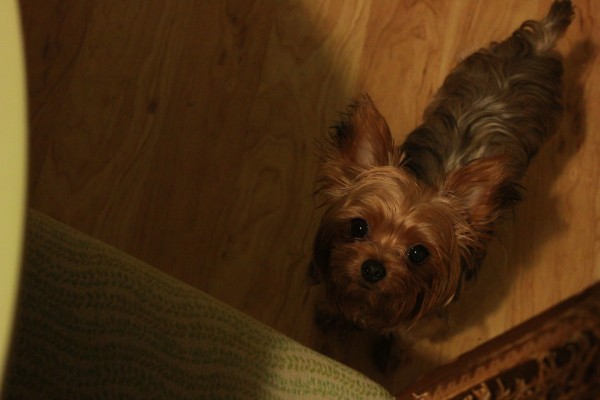 Thank you so much, everyone!!